Disclosure: This blog is audience-supported. When you buy through an affiliate link, I may earn a small commission.
Learn More
What if I could tell you how to 2x your ecommerce sales in 30 days simply via email marketing? Don't believe me? My agency, Karizma Marketing, has delivered results just like this and better.
If you long for email marketing results like this, but don't know what email marketing tactics are best for ecommerce, then this guide will walk you through the very best email marketing strategies we use as a digital marketing agency to increase your sales quickly.
We'll take a look at how email marketing can be used as a powerful revenue-generating tool in the ecommerce industry and provide an overview of the various email types that ecommerce merchants should consider sending out.
For every online business, email marketing should be a major component of your eCommerce strategy.
In fact, an email will help bring in roughly 40% of all the traffic to your website, and anywhere from 30-60% of your online sales.
Your email list should be one of the first things you invest in as an eCommerce business owner because it's vital for driving sales and providing customers with value outside their shopping experience.
"Don't find customers for your products, find products for the customers you have".

Seth Godin
What are the benefits of email marketing for eCommerce?
Email marketing is one of the most popular online marketing channels around because it's easy to track marketing ROI and it's affordable. In fact, the average return on email marketing is over 30X, which is a much higher return than paid ads.
You can also take advantage of email automation with email marketing platforms like Klaviyo which send emails by using pre-saved templates like customer welcome messages, pre-saved flows, like abandoned cart sequences, and more.
Furthermore, you don't have to spend money on sending out your marketing messages through email like you do with paid ads. This is a huge advantage for smaller businesses that don't yet have a large marketing budget.
Finally, you own your email list, but you don't own platforms like Facebook, Instagram, and Google. This is why focusing on building up the assets you do own is so important vs. focusing your marketing efforts on platforms that can be taken from you at any minute. Can anyone say iOS 14?!
Different Types of Emails For Marketing
The type of emails that you send out for email marketing depend on what stage your customer is in during their buying journey and how they've interacted with your brand so far. There are three main types of emails:
Transactional Emails – These emails include things like order confirmations and receipts, order tracking, shipping notifications, and general customer service inquiries.
Promotional Emails – These emails are designed to push out messaging around sales, new product launches, events, and promotions.
Content emails – These emails provide additional value by pushing out content to your email list around topics they want to read about. These emails can be educational and entertaining in nature and push your email subscribers to new blog posts, YouTube videos, and similar.
What are Transactional Emails?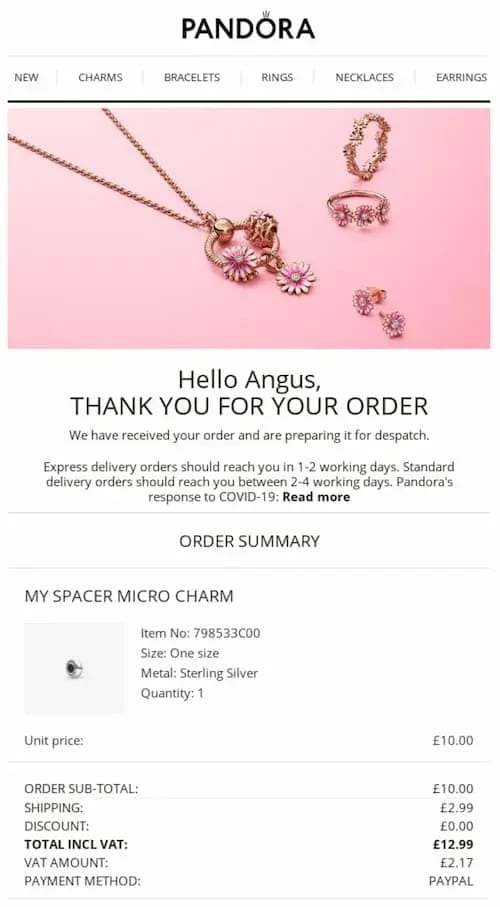 Image credit © Pandora
Transactional emails are the bread and butter of email marketing.
These types of emails include details like order confirmations, purchase receipts, tracking information, customer service inquiries – pretty much anything you need to do in email that would otherwise require a separate transaction or request for information from your customers.
Promoting your products or service are not what transactional emails are about. They simply focus on a transaction.
What are Promotional Emails?

Image credit © Coco Moon Hawaii
Promotional email campaigns drive awareness about promotions and offers, and outside of transactional emails, are the emails you likely will send out most.
It's best to segment your email lists and push out promotional emails according to the audience you believe will want to be notified about the promotion.
It is best not to bombard your email subscribers with one message after another about the same sale if they aren't highly engaged or opening your emails regularly. When you do this, they'll likely stop reading your emails altogether, ultimately hurting your inbox deliverability rates.
According to a McKinsey industry study, "Promotional emails are 40x more effective at generating sales than all other channels combined."
This data is great news because it means there are plenty more chances to increase your customer lifetime value through additional promotional emails!
What are Content Emails?

Image credit © Ao Organics Hawaii
Content email campaigns should deliver value to your audience, such as industry insights, trends and tips, educational content, entertainment, and similar. These email messages typically contain links for more information about the content mentioned within the email message itself. For example, an email promoting a new blog article published on your site would be a content email. Think of these emails like mini blog posts delivered straight to your subscriber's inboxes!
5 Expert Tips to Generate More Revenue from your Email Marketing for Ecommerce
Now that we know the 3 different types of emails, you can see promotional emails are often the most effective at generating sales because they're pushing out messaging around limited-time sales, offers, product launches and promotions.
So these are the emails I will focus on below when giving you some quick wins on how to generate more revenue from your email marketing efforts:
Email Marketing Tip 1: Add Product Blocks to Your Emails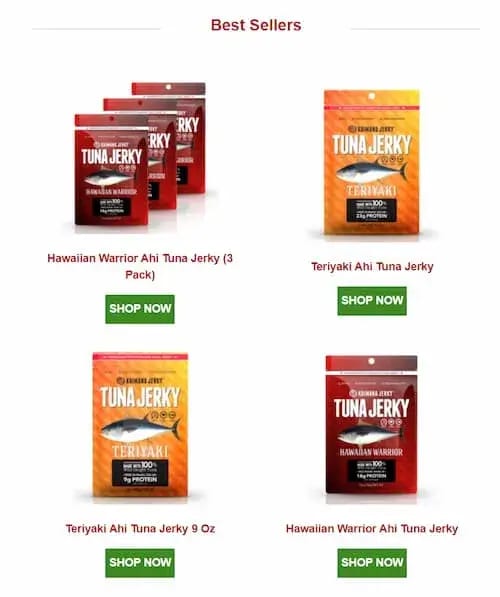 Image credit @ Snack Hawaii
Regardless of what email type you are sending, you can add product blocks to the bottom of your emails to highlight products your customers may like, products that are trending, a new product collection, products that your customer viewed, and more.
Product blocks include photos of the products, product names, product prices, and a "SHOP NOW" or similar CTA (Call-to-Action) button that, when clicked, takes the email reader directly to the product page.
Product Block Protip
Get creative with your product blocks and section them by categories, colors, prices, styles, and more!
Email Marketing Tip 2: Make Use of Coupons

Image credit @ Western Aloha
Including coupons in emails is one way to drive quick wins for revenue. You can either create a mass coupon code that your entire list can use or create a dynamic coupon code which is unique to each subscriber, helping to protect your code from being shared online. The key is to make sure your coupon codes expire in a given time frame and to let your subscribers know in the email when the code expires. This will create a sense of urgency, helping to create more sales.
Coupon Code Protip
Make sure the promotion code is high up in the email, easy to see and read, and included in the link when the customer clicks over to your website.
For more advanced marketers, with Klaviyo, you can add popups based on UTM parameters, meaning if someone comes to your website from a promotional email, you can make sure they see a popup with the same coupon code you promoted in the email. This makes for an excellent customer journey and helps to increase conversions.
Email Marketing Tip 3: Email Consistently, Regularly, & at The Perfect Time
In addition to making sure you're sending out emails consistently and regularly, there are some best practices I recommend following when it comes time for sending out your promotional emails at the right time.
Send email campaigns in the morning. People's inboxes tend to get flooded throughout the day, so it might be best for you to send out your email promotions first thing when people are checking their email. With Klaviyo, you can send from your time zone, or select the recipient's time zone. You can additionally use their AI to "smart send" emails at the time Klaviyo thinks the recipients are more likely to open your email.
Send email campaigns Tuesday – Thursday for higher conversion rates – The email marketing experts at Groove found that emails sent on Fridays had a lower open rate than emails sent on other days of the week. This is because, according to email consultant Aliza Sherman, people are more likely to scroll through their email backlog and click links in messages they haven't opened yet as opposed to opening new ones.
Additionally, according to data from Yesware, email campaigns sent on Tuesdays have the highest conversions among all days of the week. This may be due to both increased consumer activity and attention span throughout those days since most workers return after Monday's extended weekend break or stay late during Thursday-Friday deadlines.
Email Marketing Tip 4: Add Back in Stock Notification Emails

Image credit © Easy Spirit
Back in Stock notification emails consistently bring in the highest revenue and open rate per recipient, yet they are the most underutilized. The back in stock functionality exists in Klaviyo and is relatively easy to set up, but I believe because it involves code, it can feel intimidating for some eCommerce brands. But, I promise, if you can get past the fear of setting up this flow, you will be richly rewarded!
If you have a product in your eCommerce store that regularly sells out, consider adding a Back in Stock notification button on the product page. This allows customers to receive a back in stock notification email once the product is restocked. You can then link this button to an automated "Back in Stock" email for all products, and whala! Your customers are notified automatically every time you restock your inventory, helping generate some of your largest sales volume days. If you are not doing this yet, you are leaving money on the table.
You know I'm all about making you more money, but if you feel like you just can't do it on your own, reach out to my expert email marketing team at Karizma Marketing, and we can help set up the Notification Button and Back in Stock flow for you.
Email Marketing Tip 5: Design Your Email Templates So They Look Like Mini Websites

Image credit © Converse
I always think of email marketing for eCommerce as an opportunity for the customer to have an experience with the brand. One of the best ways to do this is to design your email templates to look like mini websites. The top of the email should have a navigation menu. Some of my favorite Hot Links at the top of an eCommerce email are:
Just peek at your own website navigation menu and copy that over to your email template. eCommerce websites are image heavy, so you'll want to keep that in mind when designing eCommerce emails.
With eCommerce, less text is more. 
You'll want your emails to be image, GIF, and product block heavy, while keeping the text light and filled with simple calls to action and promotional details.
Make sure to test different images as well as the quantity of images. Perhaps for a 3-day sale, create a split test where you send an email with lots of images and product blocks vs. an email with only a single image and "Shop Now" button. Then compare your stats. Did your first or last email have a higher click through rate? Which one brought in more revenue?
Finally, remember a "zig zag" design on both eCommerce websites and emails helps the recipient easily scan your content. Make sure you have a zig zag layout to your emails that shifts product blocks and text from the left to the right and back again. You'll want your readers' eyes to naturally scroll back and forth down your email.
Final Thoughts on Email Marketing for eCommerce
With email marketing, it's all about reaching the right audience at the right time with the right message. If you want to see more sales from email marketing for your eCommerce website, then make sure to use advanced audience segmentation, high converting templates, email consistently, and focus on quality content over quantity. Quality content, creative promotions, and an engaging user experience is what will set you apart from the rest of the competition.
The only way to know if your email marketing strategy is effective is by tracking conversions! You'll need a good email service provider like Klaviyo that can track things like open rates, click-through-rates, revenue generated per email, and more. You can get a free email account with them for up to 200 emails, along with some awesome deals for new customers!
As always, thank you for reading and cheers to generating more revenue from your email marketing campaigns!